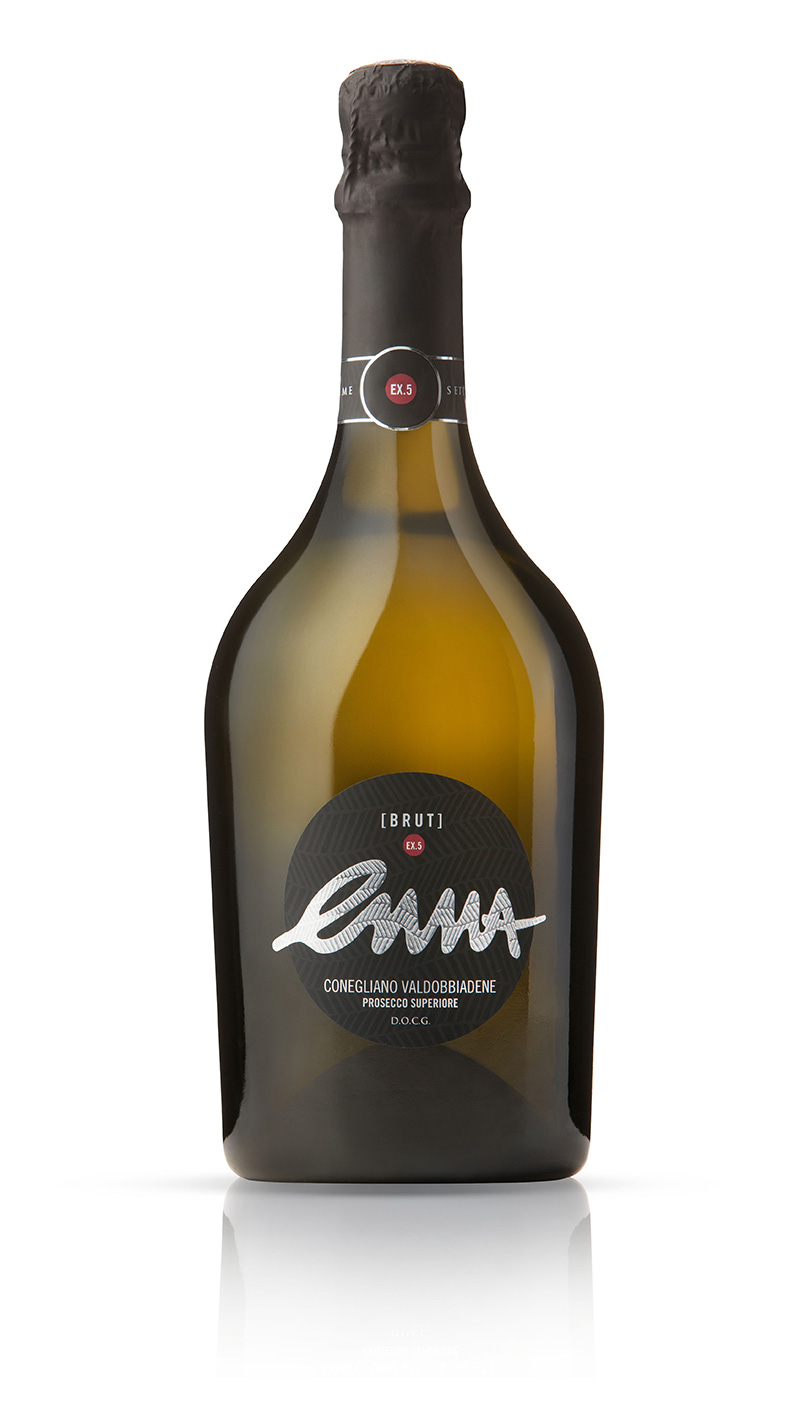 when the rain over the dry earth sounds like a melody
EMMA PROSECCO SUPERIORE D.O.C.G. Ex.5 Brut
Emma is a tribute to Love, the first steps of a life that is growing in our hands. We take care of her every single day with confidence and in return we receive a wine which is unique, precious, and whose perlage reflects the untamed beauty of the hills where she is born. In a flute of Emma one finds the joy for life.
The Prosecco Superiore Emma, classified as D.O.C.G. – the highest grade of excellence in Italian wine – tells the fascinating story of a favorable climate, with long rains and gentle, temperate breezes. This is Emma: the inimitable fruit of unique conditions; of meticulous and masterful labor; and of passion, hard work, and dedication. Ex.5 Brut is the crystal-clear sound of two glasses touching in a toast: fresh-tasting, dry, elegant, without hesitation.

I COLORI: giallo paglierino
IL PROFUMO: tipico del territorio con note di mela e pera, accompagnate da leggere note floreali
IL GUSTO: fresco, secco, croccante, avvolgente
TECHNICAL SHEET
Name: Emma Prosecco Superiore D.O.C.G. EX.5 Brut
Classification: Prosecco Superiore D.O.C.G. Extra Brut
Color: straw-yellow
Aroma: intense fruity, green apple and pear with notes of spring flowers
Palate: fresh-tasting, dry, crisp, enveloping
Soil and Vines
Grapes: Glera
Provenance: Conegliano – Valdobbiadene (TV)
Altitude: 150/180 mt above s.l.
Soil Consistency: rocky, stony, clay layer on the surface
Exposure: south
Training System: double arched cane
Density: 3000 strains per hectare
Yield: 135 quintals per hectare
Harvesting period: September
Vinification
White-wine fermentation
Settling
Fermentation with selected yeast at controlled temperature of 18° C
Sparkling effect obtained with the Charmat method in steel autoclaves
Chemical and Physical Characteristics
Yield: 70%
Acidity: 5.6 g/l
Ph: 3.20
Residual sugar content: 5 g/l
Alcohol contents: 11 % vol.
Serving Temperature
42.8-46.4°F
Storage
In a cool place, away from light sources